The Creole String Beans featuring Allen Toussaint filmed live at the Big Easy Entertainment Awards.
"Here Come The Girls"
---
Golden Crown is available now!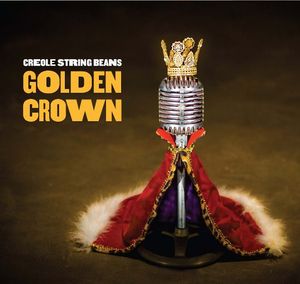 "This is a band for the ages. Those who can cover Smiley Lewis and Lee Dorsey then turn around to write the irresistible "Let the Money Drop" and "Boom Boom" are on the road to world and 13th Ward domination both. So sharpen up the oyster knives, check your spinach and head for the danger zone. Popeye is waiting."          
                                                                                                                         -- Bill Bentley,  The Morton Report
---
The Roots of Swamp Pop!

 with Louisiana legends T K Hulin and Warren Storm at the Black Pot Festival, Lafayette LA .



 
---
Creole String Beans are in the new State of Louisiana Tourism Commercial!
Listen for a few seconds of our song, FUNKY SPILLWAY!

---

The Creole String Beans featured in the new Chickie Wah Wah Commercial!
---

The Creole String Beans jam with Jimmy Buffett !!!

Check out the video as we are joined on stage by Jimmy Buffett performing his all time classic hit "Margaritaville" at the Down Unda tailgate party prior to the Saints NFC Championship victory.  Jimmy also joined us for a rousing version of another New Orleans party classic, "Sea Cruise".